Love food? Then you've come to the right place...
Welcome to the Northern Dales Farmers' Market - named one of the Top 20 Farmers Markets in the UK by The Telegraph.
We are a 'family' of more than 70 local food producers who love what we do and we love to talk about it!
We hold monthly markets thoughout the year at Hartlepool, Richmond, Middlesbrough, Stokesley and Yarm.
From Spring through to Autumn you'll also find us at Wynyard Hall and Masham,
You'll find a fabulous range of stallholders, all of them extremely knowledgeable and passionate about what they do.
Just ask Nigel Wreford and son Benjamin about the porkers they raise on their farm in County Durham. The pigs are free to roam and root just as nature intended and their happiness and well-being is what lies behind the flavour and the quality of the sensational sausages produced by this father and son team.
It's the same for all our traders - ask David Laing about the meat and eggs he sources for his gourmet scotch eggs or Simon Lacey about the cheese he has available. You'd better be prepared to hang around for a while because there's nothing they won't tell you about the processes and the quality of every ingredient they use.
Want to join our happy gang of traders? Follow this link.
In addition to the monthly markets we also take part in one-off events throughout the year and we'll share details of those as and when they are confirmed.
* Middlesbrough Food Festival at Stewart Park, Sunday May 28 sponsored by Growing Middlesbrough Local Food Network
* Folk and Farmers Market at Preston Park on Monday, May 29
* Harvest Festival at Stewart Park, Middlesbrough, Sunday, September 24
*Frost Fair at Stewart Park, Middlesbrough, on Sunday, December 3. Details to follow
* Stokesley Christmas Market, Sunday, December 17. Details to follow
Check out the events section of our Facebook page for details of all upcoming markets and special events.
Or you could print out this handy calendar....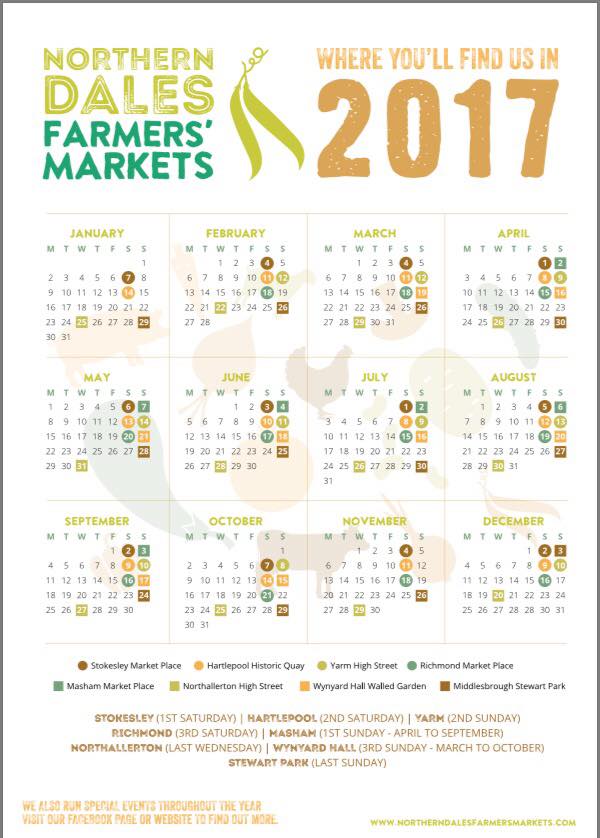 ** Please note we no longer run a farmers' market in Northallerton. Our leaflet for 2017 (shown above) went to print at the start of the year and the decision to pull out of Northallerton was taken in June.**
On behalf of our 70+ stall holders we thank you for shopping with us. By doing so you are supporting your Local Food Network.
Nigel Davison
Market Manager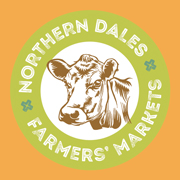 Sign up to our e-newsletter!